Personal
We have been involved with the buying and selling of homes in the central PA area for almost 33 years. Since inception, we have been an important part of the local community, and we will continue to serve all of the area's real estate needs for years to come.
Agents
Our agents work under an experienced licensed broker, Jim Collins (License #RB-060252-C), and are high caliber professionals with extensive experience and knowledge about our local real estate market. Our agents come from diverse backgrounds but all are dedicated to providing the highest quality service to our clients. Meet Our Agents!
Office Amenities
Our office is fully equipped with an integrated network of computer and communication systems. We have instant access to several regional Multiple Listing Services, Public Record Searches, and many other tools and services that our agents use to better serve you.
Our licensed administrative staff members and assistants work tirelessly to accommodate any and all of your needs. They help coordinate meetings, set schedules, and ensure the timely processing and delivery of all your documents.
Certifications and Recognitions
Accredited Buyer Representative (ABR)

Certified Residential Specialist (CRS)

Graduate REALTORS Institute (GRI)

Seniors Real Estate Specialists (SRES)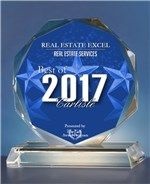 REAL ESTATE EXCEL Receives 2017 Best of Carlisle Award
U.S. Commerce Association's Award Plaque Honors the Achievement
For the ninth consecutive year, REAL ESTATE EXCEL at 1224 Holly Pike Carlisle Pa.17013 has been selected for the Best of Carlisle Award in the Real Estate Services category by the U.S. Commerce Association (USCA).
The USCA "Best of Local Business" Award Program recognizes outstanding local businesses throughout the country. Each year, the USCA identifies companies that they believe have achieved exceptional marketing success in their local community and business category. These are local companies that enhance the positive image of small business through service to their customers and community.
Nationwide, only 1 in 1000 (less than one-tenth of 1%) 2017 Award recipients qualified as Nine-Time Award Winners. Various sources of information were gathered and analyzed to choose the winners in each category. The 2017 USCA Award Program focuses on quality, not quantity. Winners are determined based on the information gathered both internally by the USCA and data provided by third parties.
About U.S. Commerce Association (USCA)
U.S. Commerce Association (USCA) is a New York City based organization funded by local businesses operating in towns, large and small, across America. The purpose of USCA is to promote local business through public relations, marketing and advertising.
The USCA was established to recognize the best of local businesses in their community. Our organization works exclusively with local business owners, trade groups, professional associations, chambers of commerce and other business advertising and marketing groups. Our mission is to be an advocate for small and medium size businesses and business entrepreneurs across America.
SOURCE: U.S. Commerce Association
CONTACT:
U.S. Commerce Association
Email: PublicRelations@uscaaward.com
​